"Holy Cow"

the food keeps coming, stuffed shells & meatballs from Gerri, macaroni & potato salad from Charleen, Sandy Sue & Betty.


Mary M., how hot are those "Texas Torpedos"?


On this table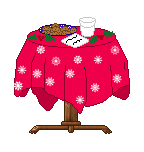 is Chili from Phyl & Ruth,

sausage balls from Darlene & glazed ham,

potato dumplings & red cabbage from Bridgette.

Here's some garlic bread from Lori, & bread dip from Glo.

Wow Di you brought so much veggies & dip.

Fran these scallops wrapped in bacon are wonderful.

Now Mary C how did you make these Salmon Log Crackers?
Sammy, put the Buffalo Wings, Cheese Firecrackers & Spinach Dip over here please ~ that other table is full. Try to leave some room for Barbara C to put her Tomato

Basil Pies & hot Stuffed Cabbage.

Oh my, here comes DeeDee with stuffed mushrooms & caribou sausage !

Joyce the gang will love the shrimp, chips & dip.

Pat W brought chicken & dumplings

Arlene the chicken & yellow rice looks good too. Teresa's yams will fit right in there.~~You know what, let's put Patsy H's Sweet Potato Souffle here also.
Here's something different, our new friend Yiayia made Baklava & Avegolemono soup (lemon soup).